From its diverse neighborhoods to its multitude of cultural attractions, the iconic city of Detroit, Michigan boasts many hidden treasures just waiting to be discovered!

Established as a fort by French explorers in 1701, Detroit was incorporated as a city in 1815. In the 20th century it became home to automakers and Motown. Today, it is an ethnically diverse place that boasts aworld-class cultural districtand a thriving riverfront.

Located in the Great Lakes region, Detroit enjoys a temperate climate with temperatures that range from the mid-70s in summer to the mid-20s in winter, and snowfall at an average of 45 inches per year. The terrain is glacial and generally flat, gently sloping downward south and east toward the Detroit River, Lake St. Clair and Lake Erie.

Public transportation consists of a comprehensive network of mass transit services, freeways and airports, and getting around the city is easy and convenient. An eclectic mix of historic and modern downtown neighborhoods enlivens everyday life here in the Motor City. This is your guide to 6 must-see Detroit districts: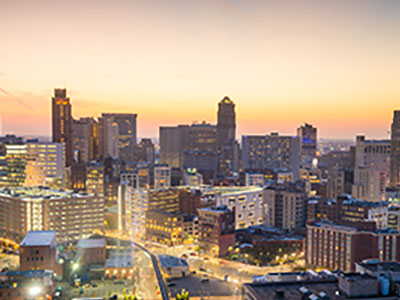 Downtown Detroit encompasses 7.2 square miles, bordered on the north, west and east by the Fisher Freeway, Lodge Freeway and Interstate 375, and by the Detroit River on the south. Located within this relatively small area are some of the country's most well-preserved historic buildings, the nation's second-largest theater district, several vibrant and diverse neighborhoods and hundreds of cultural and entertainment options. Do you like to shop? Want to experience authentic ethnic cuisine? This is the place!

Check out the stores and restaurants centered on Monroe Street in Greektown. Stroll through the historic neighborhoods of Bricktown and Capitol Park. Downtown Detroit is home to one of the largest collections of buildings on the National Register of Historic Places. With easy access to the waterfront and cultural district, residents and visitors enjoy close proximity to all the exciting amenities that city life has to offer!
Downtown History: Old World Meets Modern City Living
The downtown district of Detroit began as the original city center. Founded in 1701 by French explorer Antoine de la Mothe Cadillac, Detroit was an important center of trade for the French, until they lost control of the city to the British in 1760. The British, in turn, ceded the city to the Americans in 1796. For the first half of the 19th century, Detroit was the capital of Michigan. By the 20th century, the emergence of the city as a major hub of transportation, and the rise of the automobile, shipping and manufacturing industries created a wealthy upper class that built magnificent mansions and other architecturally significant buildings throughout the city.

Today, downtown Detroit is a commercial center with a historic flavor. Within its borders are dozens of classic old structures housing institutions such as St. John's Episcopal Church and Cadillac Tower. Architectural buffs from around the country flock to downtown Detroit to take in the beautiful Beaux-Arts and Gilded Age skyscrapers, homes and public buildings. Its vibrant, eclectic ethnic neighborhoods draw thousands of visitors and residents to live and work.
Downtown Demographics: Diversity and Growth
Within the confines of the downtown area are several of Detroit's most interesting and diverse neighborhoods. Greektown, Bricktown and the historic districts of Capitol Park, Grand Circus Park, and West Jefferson are all located here. Housing prices are average for the city, with inventory being mostly high-rises, condos, rowhomes and historic single-family.
Current and future development plans are positioning downtown Detroit to become an exciting destination for both visitors and residents. A revitalized riverfront, streetcar service and a proposed new bridge to Canada all mean investment dollars for the area, and a renewed commitment to the future of the city. Historic landmarks have been converted into loft-style apartments and condos, and neighborhoods like Lafayette Park placed on the National Register of Historic Places in order to preserve and restore them.
Downtown neighborhoods are served by the Detroit Public School District and include 5-star rated St. Juliana School and Friends School. Downtown Culture/Entertainment: Plenty to do at the heart of it all
Life downtown is mainly centered on the bustling shops, coffee houses, office buildings and restaurants that make up a large percentage of its commercial space. I find that this is an ideal location from which to enjoy the nation's second largest theatre district and the Detroit cultural district. A visit here never disappoints if you're looking for exciting entertainment!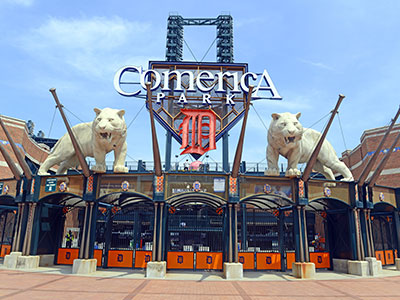 St. Mary's Church on E. Lafayette, the Detroit Opera House, Comerica Park and Grand Circus Park are just a couple of blocks away. The award-winning Campus Martius Park comprises two square blocks of green space, restaurants, shops and entertainment venues. And of course, the Riverfront is right there! This scenic promenade follows the Detroit River for over 5 miles, offering residents and visitors space to walk, bike, fish and picnic 365 days a year. Fans and followers of classic old buildings can marvel at one of the country's largest collections of architecturally significant structures, all Federally-protected and located within the downtown Detroit area.
Just north of downtown, the Midtown district of Detroit is two square miles located within the four freeways that circle the downtown area—Edsel Ford, John C. Lodge, Fisher and Rt. 75. It's a diverse mixed-use area comprised of a commercial district largely centered on Woodward Ave., cultural and educational institutions and churches. Living here means choices, both in housing and in activities.

This is what makes Midtown so special! Residents in this neighborhood enjoy the advantages of a prime location, in and near the hub of city life. Tree-lined streets with historic homes on cobblestone streets mingle comfortably with modern high rises and condos. Ten theaters, 12 art galleries and over 40 dining establishments are within walking distance. Take it from me—everything is right here!
Midtown History: City Expansion and Neighborhood Growth
First platted in 1805, Midtown remained relatively undeveloped until the Civil War, when businesses started to establish themselves around Woodward Avenue. This, in turn, created neighborhoods built by middle- and upper-class Detroit residents looking for distance from the city center. Postwar development included streetcar lines and roads designed to accommodate a new phenomenon–automobile travel to and from the city.

The eclectic mix of housing, located side-by-side with commercial and cultural districts within Midtown, is the result of early 20th century growth. Opulent homes sprung up on Woodward, schools and churches soon followed, and apartments were built to meet the demand for housing here, particularly among auto workers who found this area a convenient place to live. Today, Midtown reflects its history—a modern neighborhood with many faces, with a little bit of something for everyone!
Midtown Demographics: Education, Medicine and the Arts
As the cultural hub of the city, Midtown hosts over 2 million visitors annually. It is home to over 50,000 residents, and the numbers are growing. Anchor institutions like the Detroit Medical Center and Wayne State University, both located within the neighborhood, draw thousands of people to Midtown to live and work. This attracts professionals in the medical, education and clerical fields, as well as a number of support industries for these professionals.

Affordable rents and housing prices here make living in Midtown a good choice for those looking to relocate to Detroit. Rents are average for the city, and occupancy holds steady at about 96%. Over $1.8 billion in investment in recent years has improved the quality of life here. The North Cass Neighborhood Garden is an urban garden reclaimed from an abandoned playground, and plans for a light rail service are in progress. Midtown is in the Detroit Public School District, and is also served by University Prep Science & Math Middle School.
Midtown Culture: A Vibrant Cultural Scene in Downtown Detroit
With dozens of cultural attractions within its borders, Midtown can truly be called the center for the arts in Detroit. Millions of people flock to this area each year to take in concerts, visit the museums and listen to local and classical music. The Detroit Historical Museum, Max M. Fisher Music Center and the Michigan Science Centerall call this place home. I love going to the events and activities hosted year round in Midtown, like Noel Night and Art X Detroit, featuring the hottest local dance and music artists.
Midtown Entertainment: Live Music, Eats and Parks Galore
Midtown was made for exploring! Day and night, entertainment options are seemingly endless. I can't get enough live music, and whenever I'm in town I make sure to visit the Magic Stick, the place to be for live shows. Like your bowling with a side of rock 'n roll? Midtown is home to the famous Garden Bowl, where DJs spin your favorites and the lanes glow nightly.
Of course, shopping is everywhere! From malls to unique boutiques you will find it in Midtown. Adventurous foodies will be right at home here—with the selection of global cuisine available at your fingertips you might find it hard to choose. Check out the Motor City Brewing Works or Avalon International Breads for Detroit-style eats and drinks. Local parks offer plenty of outdoor recreation, too. Capitol Park is a local hangout that displays the work of local artists, and Beatrice Buck Park is a shady, tree-lined oasis and favorite local gathering place.
The East Side district of Detroit is made up of several neighborhoods, each with its own character. In addition to the communities of Poletown, Eastern Market and Indian Village, the East Side is home to the Eastside Historic Cemetery District. This area contains three 19th century cemeteries that encompass over 150 acres of green space. A large portion of the Riverfront is also located here.

I feel that the East Side is a prime location. It's near downtown, with easy access to the cultural attractions in and around the city. Belle Isle, a 982-acre island state park located in the Detroit River, is within view. Residents and visitors to this district experience an eclectic mix of local attractions and old-style neighborhoods, all of which reflect the storied history of Detroit and the civic pride of residents who call this place home.
East Side History: An Immigrant Past, A Modern Vision
The neighborhoods of the East Side were first settled around 1830 by German and Irish immigrants. For the next one hundred years, these areas grew into thriving communities with their own local commercial centers. In 1841, Eastern Market (also known as "Detroit's Kitchen") started as a farmer's market. In 1871, the community now known as Poletown was settled by Polish immigrants. In 1929, in recognition of its growth and its unique identity, the district was reincorporated as the City of East Detroit.

Today, the center of the East Side is also known as East pointe—a nod to its proximity to the Grosse Pointes. Its historic neighborhoods contain a wealth of architectural gems and attractions, such as the Anna Scripps Whitcomb Conservatory on Belle Isle, and the official residence for the mayor of Detroit, Manoogian Mansion. Craftsmen and artists ply their trades in a 1920s industrial complex originally built as an auto warehouse. The past meets the present and future on Detroit's East Side!
East Side Demographics: Development and Revitalization
Jobs on the East Side are mostly in the service, construction and maintenance industries. Retail, sales and office jobs are also common. Development of the casino complex, nearby in the downtown district, has brought hundreds of jobs to the area. The district has also benefited from the revitalization of the waterfront, as well as its prime location near Windsor, Ontario. The city has cleared 1,200 acres of land for new construction and the revitalization of existing homes. Young professionals looking for easy city access are looking at the East Side as an affordable option.

The East Side has also benefited from the more than 6 billion dollars invested in the area in the past few years. Much of this has been focused on neighborhood revitalization, development of the arts and theater district and new construction. Housing prices are affordable for the square footage, and families are taking advantage of the reasonable prices and rental rates.

Options for schools in East Side Detroit include Starr Detroit Academy (an open enrollment school) and East Detroit High School. Detroit Lions Academy is a collaborative venture that serves at-risk students in the area.
East Side Culture/Entertainment: An Artistic Enclave in an Urban Setting
East Side Detroit has a personality all its own. Interesting neighborhood initiatives have resulted in an eclectic mix of activities and events that give the area a unique flavor. The Heidelberg Projectis an artistic endeavor that has beautified areas of the district for almost three decades. I love touring these amazing examples of urban art, and I'm not the only one. Visitors from around the world come to see the brightly-colored buildings and objects of art created from everyday discarded items. The organization also plans art and musical events throughout the year.

Belle Isle, the iconic Eastern Market and the Riverfront are all located on the East Side. The Riverwalk is home to the Renaissance Center, Chene Park and GM Plaza. Walking paths, shops and restaurants make the river portion of the East Side a popular destination for both tourists and residents. Love art? Be sure to check out the historic Russell Industrial Center, which now houses artists' studios. And, for craftsmen, Pewabic Pottery is a must-see. This free ceramics museum and gallery displays all kinds of local and regional works.
Located just a couple of miles outside of downtown Detroit, the Southwest Side includes some of the city's oldest and most ethnically diverse neighborhoods—mostly notably the old Irish enclave of Corktown,and Mexican town. Close proximity to downtown and the Riverfront make the Southwest Side a convenient place to live and work. I love the vibrant spirit of community here—it's a real melting pot of people and experiences with a lot to see and do!

The Southwest Side is the launching spot for the Ambassador Bridge to Canada, over which a quarter of all trade between the two countries passes. Historic Fort Wayne is also located here, on the shores of the Detroit River. Historic buildings representing every architectural period remain cornerstones of the landscape, and local museums and theaters offer residents and visitors an eclectic mix of musical and artistic talent. Over 130 restaurants, 30 bakeries and 25 markets and specialty food stores representing cuisine from around the world make this area a foodie's paradise. The Southwest Side of Detroit is a must-see destination for anyone who wants to experience the best of life in the Motor City!
Southwest Side History: A Melting Pot of Cultures
The Southwest Side has a long immigrant history. Originally settled by the Irish and Germans in the early 18th century, Southwest Detroit became home to a significant Latino community during the Industrial Revolution when railroad jobs were plentiful. The neighborhoods of Corktown and Mexican town developed into thriving communities that anchored the area. These residents built the classic Federal-style row homes that were the signature style at the time. Many of these structures still stand, giving the city streets an eclectic, historical feel that I love.

In the 19th and early 20th centuries the area became the destination of choice for workers in the manufacturing and auto industries. These residents added elements of Queen Anne and Gothic architecture, creating a unique blend of styles that makes a drive through the Southwest Side a charming glimpse into the past. In the 1950s and 60s, the area was the site of several urban renewal projects that destroyed blocks of residential streets. The encroachment of the business district and highway construction left an indelible mark on the area. But revitalization efforts have brought back much of the charm and appeal of this district.
Southwest Side Demographics: Investment in the Present and Future
An active business association in the area oversees many projects designed to renew neighborhoods and bring investment dollars into the area. Several historic buildings and sites and maintained and open to the public, including Fort Wayne, the Michigan Central Station and the 150-year old Woodmere Cemetery are all located within the Southwest Side and draw thousands of visitors each year.

Revitalization of the West Vernor Business District is underway, and community leaders are spearheading a number of projects within Southwest Detroit, including the Gateway Project, the Detroit River International Crossing, and the Detroit Intermodal Freight Terminal. These projects represent an investment of over $3.1 billion in transportation-related infrastructure.

Jobs here are mostly in the service, construction and maintenance industries. Housing is a mix of single-family and rental units, with rents lower than the Detroit average. Students on the Southwest Side are served by the Detroit Public School District, and neighborhoods schools include West Side Academy, Covenant House Academy and Cesar Chavez Academy.
Southwest Side Culture/Entertainment: A Myriad of Choices
There is no shortage of things to do in Southwest Detroit! Whether you want to shop, dine, dance or participate in community events, the neighborhoods of the Southwest Side do not disappoint. The Latino community hosts several events annually, including El Dia De Los Muertes, a Mexican holiday that honors the dead. Fort Wayne, Detroit's only remaining fort, is open to the public and hosts Civil War reenactments. For those like me who love old-fashioned organ music, the restored Senate Theater offers concerts throughout the year.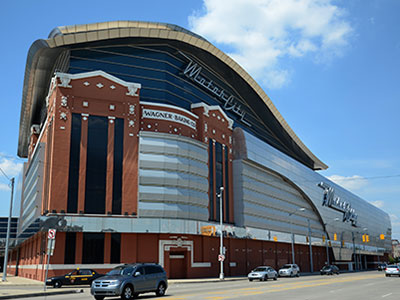 Urban art aficionados hang out at Izzy's Raw Art on Michigan Avenue, and history buffs can tour local buildings of historical and architectural significance. St. John Cantius Church is a Romanesque survivor from the turn of the 20th century and worth a visit. Is gambling your thing? The Motor City Casino is one of three casino complexes located within the city of Detroit, and the place to go for fine dining, a trip to the spa and live entertainment year round. Restaurants abound, specializing in ethnic foods that reflect the blend of cultures here.
The West Side district of Detroit is home to some of the most iconic neighborhoods in Detroit. Palmer Park, Palmer Woods, Woodbridge, Sherwood Forest and University District are a few of the places residents here call home. Visitors will find dozens of historic homes and buildings in this area, as well as a large portion of the infamous 8-Mile Road. From this convenient location, residents enjoy easy access to regional malls, and the advantage of living amongst some of the most beautiful homes in the city.

Those living on the West Side benefit from the myriad of activities and attractions available year round. From its riverfront to its funky theaters, museums and nightlife, the West Side offers a little bit of something for everyone!
West Side History: Detroit's Residential Escape
Originally settled by the French and English in the 18th century, the West Side neighborhoods became more accessible in the late 19th century with the advent of the automobile. As a hub of automobile manufacturing, Detroit's west side communities became residential centers serving workers in that industry. At that time, the newly-minted upper class started creating upscale new neighborhoods outside of the downtown area, most notably Palmer Woods and Boston-Edison. Churches and apartment buildings soon followed as the need for housing among the city's wealthy increased.

Detroit's West Side has long been home to some of the city's most historic landmarks, including the S.S. Kresge House and Lee Plaza, an Art Deco high-rise apartment built in 1928. These buildings anchor the communities within the West Side, and many are open to the public for self-guided tours. In my opinion, these are not to be missed on any tour of the city. Today, the West Side district offers a vibrant mix of old and new, and both residents and visitors have many options in housing, food and entertainment.
West Side Demographics: Renovation and Preservation
The West Side neighborhoods represent a cross-section of society. Housing ranges from historic old homes to apartment buildings and condos. Values are higher than average for the city of Detroit. Jobs are primarily in management, sales and office work. West Side communities are served by the Detroit Public Schools district, and attend a variety of neighborhood schools such as Palmer Park Preparatory Academy, Mumford High School, and Western International High School.

Economic development in the area includes initiatives for neighborhood revitalization and the introduction of new retail stores. Incentives for business include tax abatements intended to encourage the development of vacant lots and empty existing structures. The rehabilitation of historic old buildings is a priority here, as well. Recent West Side projects (both proposed and in progress) include renovations of the former Book Cadillac Hotel and the development of residential/arts communities in and near Capitol Park. The West Side of Detroit is looking forward, while preserving its historic legacy to the city.
West Side Culture/Entertainment: Endless Options for All Tastes
With such a wide variety of neighborhoods within its borders, it's no wonder that the West Side has so much to offer! The 1928 Redford Theater plays classic movies and features a beautifully restored pipe organ. Those who appreciate fine architecture should not miss a drive through the Palmer Park Apartment Building Historic District. The Gateway Marketplace has a variety of stores and dining establishments, conveniently located near most of the communities of the West Side. And, don't pass by the opportunity to check out the oldest jazz club in the country, Baker's Keyboard Lounge.
The Sherwood Forest branch of the Detroit Public Library, established in 1942, is a neighborhood landmark. And, a short drive away on the far west side is River Rouge Park, one of the largest public parks in the country. Restaurants reflect the cultural melting pot here, serving a variety of ethnic and American cuisine from Asian to Mexican to (my favorite!) homemade Italian specialties and soul food.
The Hamtramck-Highland Park district is located north of downtown Detroit. With a prime location and rich immigrant heritage, these historic communities are poised for renewal and growth. Numerous landmark buildings reside within its borders, small businesses abound and residential streets teem with activity, all set against a backdrop of charming craftsman and Tudor Revival homes. The first Ford assembly plant was built in Highland Park in 1910, and other architecturally significant buildings still anchor the city blocks.

Once home to one of the country's largest Polish enclaves, Hamtramck is now a melting pot of cultures, including residents from the Middle East, the Balkans and Asia. However, those who enjoy celebrating ethnic heritage can still join in neighborhood festivities in honor of the Poles who founded the neighborhoods. The streets of Hamtramck-Highland Park are bustling with activity, and anyone visiting here will be pleasantly surprised to find a walkable community of historic neighborhoods and thriving local enterprise.
Hamtramck-Highland Park History: Industry and Community Near Downtown
Hamtramck-Highland Park began to take shape in the late 18th century, when the area was first organized into a township. In the 1820s, the village of Woodwardville was platted, and its name changed to Highland Park in the late 1880s. And, while the ridge for which the town was named was levelled to build Woodward Avenue, the name stuck. In 1909, Henry Ford moved production of the Model T to a factory built in Highland Park.

Lured by the promise of good wages and steady work in the auto industry, new residents started pouring into the area, including Poles who established the neighboring community of Hamtramck. A housing boom soon followed, and this district became one of Detroit's most active and populous districts. By 1930 more than 50,000 people called these communities home, and beautiful, tree-lined streets offered a quality of life not found elsewhere in the Motor City. Today, the energy and community spirit that built these historic neighborhoods is alive and well, and inspiring a drive to renew and revitalize these culturally important Detroit districts.
Hamtramck-Highland Park Demographics: Investment in a Stronger Community
Jobs in Hamtramck-Highland Park are mostly in distribution, maintenance and construction. Home prices are lower than average for Detroit, and affordable for families. Options include older bungalow-type single-family homes, apartments and condos. There are several schools in the neighborhoods, all within the Detroit Public School District. These include Highland Park Renaissance High School, George Washington Carver Academy and Ford Academy for Community Performing Arts.

Utilizing $5 million in seed money donated by the Chrysler Corporation in 1987, a local non-profit development group has overseen dozens of restoration and cleanup projects, and provided technical assistance to area communities. The improvement of infrastructure and housing and aggressive recruitment of business are bringing retailers and industry into the district. Coca-Cola has a major distribution center here, and Highland Park Town Center anchors retail development on the site of the old Model T plant. This mixed-use residential and commercial space has brought millions of investment dollars into Highland Park-Hamtramck.
Hamtramck-Highland Park Culture/Entertainment: Rich Traditions and Vibrant Culture
Museums, galleries and historic landmarks join tons of retail and dining options in Highland Park-Hamtramck to create a vibrant and diverse place to live and work. St. Florian Church, an old Polish church built in 1928, is an example of Gothic Revival architecture located in the heart of Hamtramck. The Primary Space gallery features post-pop urban art, with a focus on graffiti art. The historic neighborhoods of Medbury-Grove Lawn and Highland Heights-Stevens contain blocks of homes designed by Detroit architect Albert Kahn—a don't-miss destination for fans of Detroit history and historic homes.

Annual local events include the live music fest Blowout, held every spring in Hamtramck/Ferndale. The Labor Day Weekend Festival celebrates the area's Polish heritage. Paczki Day features the Polish dessert that locals traditionally consume in anticipation of Lent. Local eateries include the historic Polish Village Café, serving up authentic Polish foods in the basement of a neighborhood home. This is definitely my favorite restaurant in the area! Hamtramck-Highland Park offers both residents and visitors a taste of the rich traditions and heritage that built these historic Detroit neighborhoods, and continue to make them a unique part of life in the Motor City.