AFFINITY VAULTS CONTAINERS
Strategically Designed Containers for Effortless Transportation & Secure Storage.
CONTAINER MOVES FOR SMALL SHIPMENTS
Affinity Vaults are specially engineered moving containers used to easily transport and store small shipments. With guaranteed dates, your household goods will be moved safely across the country in record time. We also offer extended deliveries with flexible scheduling where you can store your "Exclusive-Use" Affinity Vault containers in our temperature-controlled warehouses until your home is move-in ready.
All furniture is padded and protected inside your 'Exclusive-Use' Affinity Vault container, just as it would be on a traditional move. Additionally, your valuables will be locked and sealed inside your waterproof container until your belongings are ready for delivery. If your new home isn't ready for occupancy, our Atlas Agents offer storage options for your Affinity Vault in climate-controlled warehouses.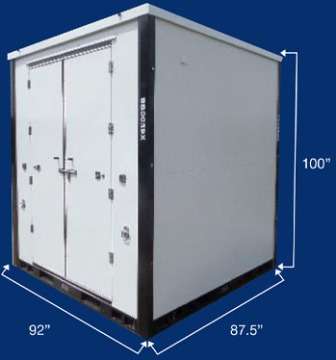 | | |
| --- | --- |
| Exterior | 87.5″L x 92″W x 100″H |
| Interior | 84″L x 89″W x 95″H |
| Cubic Capacity | 412 ft |
| Door Opening | 54″W x 85″H |
| Weight per Container | 2,000 lbs to 2,500 lbs |
| Equipment | 20 pads and 2 straps per vault |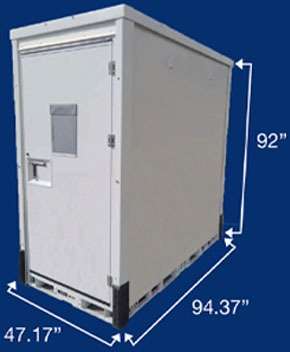 | | |
| --- | --- |
| Exterior | 94.37″L x 47.17″W x 92″H |
| Interior | 90"L x 43"W x 89"H |
| Cube Capacity | 200 ft |
| Door Opening | 43"W x 89"H |
| Weight per Container | 750 lbs to 1,250 lbs |
| Equipment | 15 pads and 2 straps per vault |
FLEXIBLE DELIVERY & GUARANTEED DATES
These guys are the best movers that I have ever used! With all of the positive reviews, how could I go wrong? I called them and had constant communication with the staff via phone and email and felt reassured that everything was going to be taken care of.
Amanda
Customer
I would 100% recommend Palmer Moving Services and the Affinity Vaults service again. They were extremely fast, organized and able to answer all of my questions.
Michael Johnson
Customer
Palmer Moving was recommended to me by a friend. Their Affinity Vault service suited my moving needs and I highly recommend them.
Robin Clarke
Customer
ABOUT PALMER MOVING SERVICES
Since 1910, Palmer Moving Services has recognized that quality is essential, value is the measure and the customer comes first. Integrity, family and an unrelenting commitment for delivering quality service are the fundamental values that have guided our business and are the foundation for our success. 
Still family owned and operated, our "people helping people" approach is time-tested and has been the key to our success. We've grown from a simple "mom and pop operation" to be one of the largest moving companies in the United States. 
Frequently Asked Questions
CONTACT US TO BOOK YOUR CONTAINER SHIPMENT TODAY!
info@palmermoving.com | 1.800.521.3954